do you think this is too much?
06-14-2007, 12:27 AM
Registered Looser
Join Date: Jan 2007
Posts: 71
Thanks: 0
Thanked 0 Times in 0 Posts

do you think this is too much?
---
Well here is my sad attempt at designing a custom audio system. Nothing will be visable except the amplifier and subwoofers. The MB Quart badges will go on the stock speaker grills and the trunk is going to be custom but smooth. In other words the layout will be simple and flow with the interior. there will be a few surprises though but everyone will have to wait and see whats in store
I will post back when the install is done. Here's to my first post
and oh yeah...enjoy!
Everything is MB Quart
2x dce110 4" coaxial w/ crossovers
2x dwe130 5.25" component w/ crossovers
2x dce169 6x9" coaxial
2x dwg254 10"
1x pab5400 5 channel (8ow x4 300w x1)
2x pac sni-35 line level converter
tsunami/pro ice wiring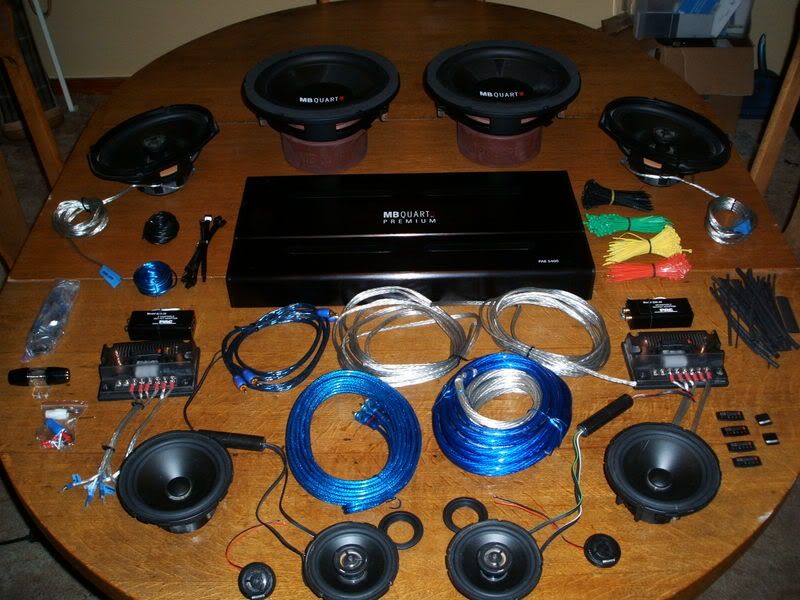 06-14-2007, 12:53 AM
resU deretsigeR
Join Date: Jan 2006
Location: Jacksonville, FL
Posts: 743
Thanks: 0
Thanked 0 Times in 0 Posts
I see an extra set of coax!?!
06-14-2007, 04:05 PM
Registered User
Join Date: Apr 2005
Location: CFB Comox, BC, Canada
Posts: 544
Thanks: 0
Thanked 0 Times in 0 Posts
I too see an extra coax, not recommended at all. Replace the 5.25" component and the 4" coax with a 6.75" component set and call it a day. You will have far better performance this way and much easier to set up.
06-14-2007, 06:50 PM
You don't have enough power to drive all those speakers with that amp. If you want a single 5 channel with enough power -- get the Kicker ZX700.5 -- it puts out a lot more power for your subs (420w @ 2ohms) and more watts per channels for your speakers.
06-15-2007, 12:16 AM
Registered Looser
Join Date: Jan 2007
Posts: 71
Thanks: 0
Thanked 0 Times in 0 Posts
just wait. i have used this coax setup before. it will work trust me. oh and the 5400 will be fine for what i am going for. besides im not a kicker person (due to my personal experience with them). i am a balance freak and i will tune this setup to perfection like i have before. im not a competition guy and im not trying to blow myself completely out of the seat either
trust me it will be worth it.
06-15-2007, 01:21 AM
if mb-quart refers to oil, dont worry about keeping an extra quart in your trunk anymore

06-15-2007, 03:13 AM
Nice, always like to see how a new set-up will be and just hope that one day I will be able to mod mine here... must find the right people to do it, not as easy... and guys here always screws up your clips, fitting etc...
06-15-2007, 07:55 AM
I may be a little biased, but if you are going with a hidden system for great balance should there be an eq in there somewhere? I love my 3sixty.2 and would recomend it for anyone who wants to tune a serious stereo and still run the stock HU. Its a little pricey but i plan on using it in any future car too.
06-16-2007, 01:20 AM
Registered Looser
Join Date: Jan 2007
Posts: 71
Thanks: 0
Thanked 0 Times in 0 Posts
the eq is a great idea i thought about that too. im going to try to get away with the tunability on that amp for now though. plus i have some major league pros at superior sound on my side so we should be able to work something out. also as far as the extra coaxls go, one of my co-workers wants my 5.25s and 4s for his eg hatch so i think i am gonna go with the 6.75 component set. you are right forbidden it will be a pain in the neck to do the doors like i want and if i go too custom it wont look like it is supposed to be there. im sure i can filter out enough lows on the 6.75s i was just worried it would be too bassie. so to sum it up i will get a set of 6.75 components and possibly an eq. you guys try not to change any more on me now i want to get this stuff in! hehe oh well what the hell its only time and money right? not like anything else in life is different
06-16-2007, 03:36 AM
Culpam Poena Premit Comes
Join Date: Oct 2006
Location: Sydney, Australia
Posts: 1,230
Thanks: 0
Thanked 0 Times in 0 Posts
you have too many cable ties!
110
,
4
,
6x9
,
challenger
,
dce
,
dce110
,
dce169
,
dwe130
,
installation
,
installing
,
mb
,
pac
,
quart
,
sni35
,
wiring