NASA ST5/TT5 build
10-08-2018, 09:59 AM
NASA ST5/TT5 build
---
Been out of the house for a loooong time, but not out of the RX-8. And the "RX-8 in NASA ST5/TT5" thread hasn't seen action in a while, so maybe this will renew interest and jump-start it.
Since I changed directions to run ST5 / TT5 (instead of 4), I had to make some changes to the car. So far she's been extremely competitive in class, and I'm still learning to get the most from the car (still feels early in the learning curve, or at least nowhere near a plateau). Best damn thing on this car is the AiM MXL dash – so helpful for improving my driving, just crazy insights. But on to the hard-parts:
First,
wheel and tire choice
: I'm running 245/40-R17 Hoosier R7s, which do pass the 266mm template when mounted on 17x9 Konig Dekagrams. Very-very close, but they pass w/at least 1mm to spare.
I am
running aero
and picked up the wing gurney that Team recommended (many thanks). Sadly, the front splitter had to go (couldn't afford the modifier), but I was still able to reuse all of the base I built. So to recoup some of the front aero, I made a class-legal air dam similar to what the Miata guys do. That bought back a fair amount of area along the leading edge of the front under-tray. I just made a mini-foot that bolts in place of the old splitter (meets up with the air dam).
Ended up with a Rob Halford sort of vibe… =)
Air dam w/under tray
A much larger area was gained by finishing the rearward portion of the under tray and pushing it back to the legal limit (front wheel centerline). I scalloped out some of this to clear the wheels at full steering lock.
Under tray extension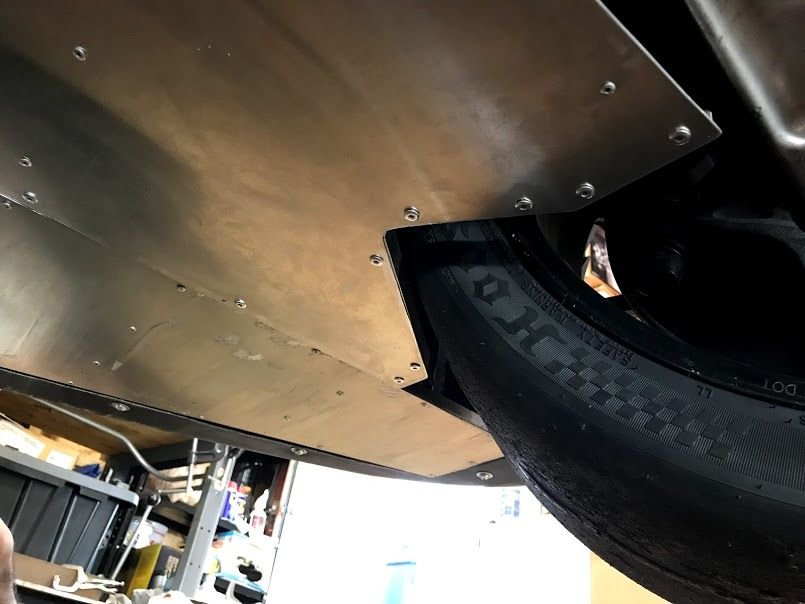 Steering clearance - at full droop, gains clearance at ride height
I have some more front aero in the works, but it's a winter project… =)
I finally got around to pressing in some offset bushings to get the front negative camber I wanted. And I added "functional ballast" in the form of a passenger seat & harness. Apart from that, the big change was in finally addressing some of the mangled body panels.
Then we wrapped the car (did it myself w/help from a friend who was also clueless – so it's a darling in pics and from 10' away…just don't get too close…it gets ugly).
She looked pretty darn fast. We set the Autobahn CC - South track record in ST5 and TT5 (not great times, but in ST5 the driver was new to the car and in TT5 I was on my warm up session getting it ready for the ST5 driver...
much more
time still in the car). We're about 3/4 seconds behind the track record at Mid-Ohio, which I'm convinced I can take down under good conditions. Should be able to take Gingerman as well. The car is coming into its own and its starting to make sense to me.
Then I killed the trans about a month ago or so. I suspect it was dying as early as Gingerman (June) and very likely at Pitt (July) where I missed shifts that I recall felt just, well odd (like hitting a block of wood rather than a gate). Matt got a nice front seat view of the missed shift at Pitt… Anyway, by the final Mid-O event (Aug), I couldn't go more than a lap before it would stop going into gear.
Since I had a "spare trans" from TechSport, the replacement took 3x longer than it should've…yeah, because "spare" really meant "incomplete," and "race part" seems to mean "just jam in a 7/16" coarse thread bolt into the flywheel-counterweight's M10-1.25 bolt holes, then strip out two other holes and spin that f'r to 9K RPM." ARGH! Thank goodness there's not much left of their work on the car.
She's back together now (properly) and ready for a shakedown run at Road America. After that, we've got one final event at NCM to finish off the season. If the car is mechanically sound (knock on wood, wood products, wood veneer, and anything remotely resembling wood) and the weather holds, then I hope to absolutely crush the current TT5 and ST5 track records.
CRUSH.
10-11-2018, 11:13 AM
Registered
nice build. i'll have to copy that front air damn this winter :D. i wanted to run the mazdaspeed bumper but i couldn't because i was still running TTD this year, and ST5. no more TTD next year, so the car will be full fledged ST/TT5 next year.

are you running stock engine? does it make enough power to max out p/w ratio for the class? you said you had to add passenger seat for ballast. my comp weight is 2850.

i was at Pittrace when the engine decided it had enough. wanted to chat with a few other rx8 guys there but i needed to load the car up and get on the road before dark. hope to battle with you at Pittrace and mid-o next year.
10-11-2018, 05:22 PM
Hey there!
Sorry to hear you lost the engine - I've been there done that too many times already. =(

My engine is mostly stock - the latest build was really focused on upgrading seal materials to address the high heat of track use. I wasn't after "more power" I was just after something like reliability. I am running pretty open intake and exhaust, so power is right on point for ST5/TT5. My comp weight used to be 2800 with me in it, but the seat and ballast box raised it to 2890 for this year.

We got hit with a 0.7 modifier for the A-arms this year, and it goes up to 0.8 for next year. So you're looking at a 14.8:1 target for next year. That's if you're not taking advantage of the non-aero modifier which cuts you a break for running with a base-trim, totally-stock body (sans some minor allowances). With ave. power around 196 rwhp, I'm hitting the numbers where I like it. In theory I need to add a bit of weight next year for that extra 0.1 penalty the A-arms will bring, but I'm not even sweating it. That comes down to about 11 lbs, and I rarely run on a near-empty tank. Nothing two gallons of gas doesn't address.

Personally, I think the car fits extremely well in the class. Look forward to seeing you out there! I'm easy to find at any of the NASA Great Lakes events.

Best,
-john santiago
HPDE 1 Group Leader
10-11-2018, 10:32 PM
Registered
the a arm penalty will remain .7 for next year. it's been officially announced. if you're making 190+ avg whp, that's a strong stock motor. i thought most stock motor only make 195 peak, so probably 185 avg.

what has been the common failure on your motor? apex seals or side seals?
my new motor has cnc ports, rx7 full depth apex seals. the builder said to stay with oem seals for better wear on the housing. i was going to go with oem size ceramic seals but they didnt have any in stock and would take months to get. i didnt want to wait and wanted to finish the season with a few events left, so i went with rx7 seal option.

i'm going to keep the rear wing and give up the .4 BTM points, so i can run different front bumper and font fascia like yours. i just redid my class form for 2840 lbs and 191 avg hp.

i'm also looking to run e85 next year to gain a little more mid range power while dropping engine temp. will have to see if the gas tank is big enough to finish the race.
10-12-2018, 09:13 AM
Damn, I knew I should've put up for sale those ceramic seals I have... =)

First engine lost side-seals: but it was a junk engine anyway, came with the car essentially DOA, I just didn't know enough then...
Second engine: suspect bad tune led to lean condition that overheated apex seals - they sagged and we lost compression
Third engine: same build (mild street port on exhaust), Racing Beat tune, loving it so far. My builder is Banzai Racing, and he uses premium aviation grade apex seals (better metallurgy than OEM seals) along with Viton upgrades everywhere to replace OEM rubber for better heat tolerance. On the rotors, we could've used the ceramic seals I have, but their failure mode (shattering) tends to take out an entire rotor/housing. When the aviation seals fail, you just lose compression as they sag, and that's identifiable long before major damage occurs. So I chose that margin of safety, figuring maintenance rebuilds are cheaper than new engines.

My current engine benefits from a really nice exhaust system - great headers, no cats, race muffler (i.e. big can doing a "muffler impression"), just flow-flow-flow. So she's strong for a mostly stock mill. But she's also loud, like really loud to the point neither passengers nor I can hear anything over coms. So I'm going to try out a different muffler to see if it helps.

I was surprised that my aveHP calc. wasn't much lower than peak, even with the broader RPM range allowed for the calculation this year. As much as I appreciate the move to average HP, I wish they would come up with some way to factor in torque. Sure, we make a power number, but damn if that's what you're really playing with coming out of a corner...

Good to hear the a-arm penalty isn't changing. Won't make much difference for me (or most folks I suspect). Kind of a silly proposed change anyway (0.1 point...meh, whatever).

Gas tank big enough? Are you running a small fuel cell? I typically drive in Time Trial, so that little 15 min run is never a concern so long as I remember to put fuel in the damn car...*ahem* We've also run standard 35 min sprint races in ST5 (with no FCY) and had no trouble making it through the race. Of course, you'll be going through E85 at a quicker pace, so the sprint race duration might be a concern. Doubt TT will be hard to make.
10-12-2018, 09:28 AM
Registered
the engine builder told me the ceramic seal seals better and make more power, and last much longer. and it would take a lot of abuse to shatter them. i was actually going to go with the rx7 ceramic seal.

i hear you on the exhaust. i have 3" header back with a small muffler at the back, obx header for now. i put 800 street miles on the new engine to break it in and it was unbearable without my noise cancellation headphones on. the exhaust tone on the new ported engine is much louder than the oem engine. i got a magnaflow 16" long resonator that i'm going to add to see how much it will quiet it down. if not, i'll add another muffler at the CAT section.

oh and NASA National will be at Mid-O next year. looks like i'll be making a few trip out there to learn the track.
10-12-2018, 11:09 AM
10-12-2018, 12:39 PM
Registered
Join Date: Mar 2008
Location: Champaign, IL
Posts: 439
I am so glad you posted a picture of your air dam work. I want to do pretty much the same thing this winter.

I'm not certain yet whether I want to do a splitter.
10-12-2018, 12:52 PM
Wow, can you afford the splitter points? I've only got a measly 0.1 points to spare, but I'd LOVE a front splitter.

BTW, there's more detailed pics of the undertray in the ST4 build thread. Most of that won't apply to folks unless they want a similar quick-release nose (which was the point of all that sub-structure). The air dam was dirty work; did it in between a splitter project I was doing for a friend in American Iron...damn, need to finish that too...
10-15-2018, 05:50 AM
Registered
Join Date: Aug 2015
Location: Mid Atlantic
Posts: 359
The wrap looks great. did you keep the bumper and hood black because of all the track grime? i thought of doing that to mine, getting tired of removing all the rubber smears!!
10-15-2018, 09:34 PM
Thanks!

I always planned to keep the center portion of the nose black - but wrapped in carbon along with the hood. By the time I finished what you see here, I was so sick of doing the wrap. My first - and last - wrap job. Might as well have painted the car.

The hood is not done yet, so that's just black e-coat on it now. I'm doing hood vents over the winter, and I'll paint it matte black to match the nose.
Thread
Thread Starter
Forum
Replies
Last Post
Series I Wheels, Tires, Brakes & Suspension
Series I Wheels, Tires, Brakes & Suspension
Series I Wheels, Tires, Brakes & Suspension