Another Level Car Show for Cancer 8/7/10 - Chicago(land)
05-27-2010, 10:44 AM
Rotolicious
Join Date: Sep 2003
Location: Chicago(land)
Posts: 37
Likes: 0
Received 0 Likes on 0 Posts
Another Level Car Show for Cancer 8/7/10 - Chicago(land)
---
Well, the Team Echo folks are hosting another garage show. Those that may have attended last year know that it was a breakout success. This year, let's get those rotaries in attendance. I'll see if we can't secure ourselves a good location. Let's spread the word and get out there!
In the interest of group togetherness, I highly recommend that you pre-register as soon as possible. If we want to get on the top floor, we need to let them know as soon as possible with a count. So...let's go!
Naturally, we don't HAVE to be on the top, but that's where all the activity is. So, the sooner we get a good count, the better. Either way, we can get a spot where we're all next to each other, but I'm hoping we don't wait 'til the last min again as usual.
I'll edit the info as it changes...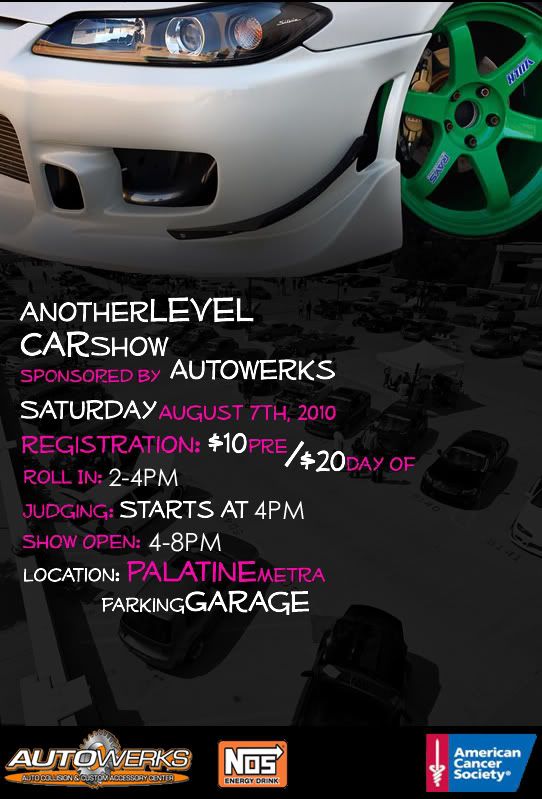 8/7/10 Another Level Car Show
Benefiting the American Cancer Society
Address: 180 N Smith St Palatine, IL 60074
Back for another year. Hope you all can attend and make it an even bigger success. If you don't have a car to show, come to support, it's free to attend, and the Metra is right next door.
Registration is OPEN
---------------------
Pre-registration for cars is $10
and day of is $20
Please send payment for pre-registration to:
[email protected]
via Paypal
along with make, model, car club and full name. If you pay day of, we cannot guarantee that you will be parking with your club. **Max vehicle height is 7'
**Vendors, please contact me, Justin, at
[email protected]
if you would like to set up a booth.
Photography:
JDM Chicago
Sponsors:
Autowerks
NOS Energy Drink
Arlington Toyota Scion
Audison
Participating Vendors:
Autowerks
NOS Energy Drink
Arlington Toyota Scion
Fizz Autosports
MPH Motorsports
iLL Garage
Estrada Customs
Top Speed
Discount Tire
Food Vendors:
Culvers
Durty Nellies
Raffle Prizes:
Apple iPad
Hertz Component Speakers
Award classes will be announced soon...
Thread
Thread Starter
Forum
Replies
Last Post
Series I Trouble Shooting
RX-8 Parts For Sale/Wanted