SBG GB: Ohlins End of Summer 2015
09-04-2015, 03:02 PM
RX8Club.com Sponsor
SBG GB: Ohlins End of Summer 2015
---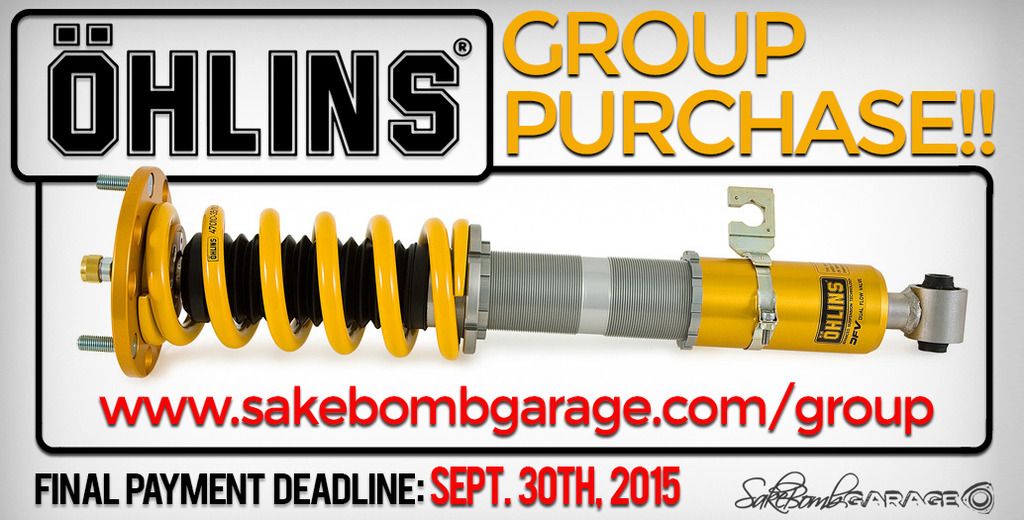 This group purchase is for 15 sets of RX8 Ohlins DFV suspension, en-route to SBG as we speak!
We have a total of 15 kits, no more no less, and once these are sold that will be it until a future production run of RX8 kits by Ohlins Sweden. We've been getting requests for these kits for months now but as the production capacity is limited this will be all of the RX8 kits that are available in the US. For those of you that don't know, Ohlins is a rather small company in the grand scheme of things, with many valving components precision machined in Japan, then assembled in Sweden. The lead times for small batches of components is long and the RX8 is one of the smaller chassis they support, so production runs are limited quantity and infrequent. We were fortunate enough to grab this many sets but wanted to let everyone know the quantity is finite.
September 31st will be the end of the group buy, and payments will not be accepted after this date. All kits are first come first serve, as a result of limited quantity. Kits will ship to customers immediately upon arrival.
Here's how the GB will work:
We have set up a product page to purchase a non-refundable GB spot for $100 - this is your deposit. Proceed to checkout and complete your deposit order.
Within 24hr we will email you a coupon code to finalize your purchase with group buy pricing - use this code any time between now and September 31st.
After receiving the coupon code, please visit the standard product page Ohlins Road & Track DFV Coilovers (CHOOSE YOUR APPLICATION TO SEE PRICE) - SakeBomb Garage LLC and enter your coupon code at checkout. You must complete your final payment IN FULL before Sep 31st. (If kits arrive early we will ship in order of final payment, so the sooner you pay the sooner your kit will ship).
To place your deposit, please visit: www.SakeBombGarage.com/group

We will update the thread with available spots periodically. We suspect this will fill up fairly quickly as we've seen quite a bit of interest in the last couple months and are running this GB across multiple forums. We have 15 sets in transit to us now!
If you have any questions please PM us, or email
[email protected]
SBG

Within the first two hours two were sold and a flood of emails came in, this may go quicker than we thought. Please add your name if you have put down a deposit, paid in full, or are considering taking one of the spots. We are running this on other forums as well so it's hard to keep track of who is who.
Also remember we do offer re-valving services to your spring rate specs $500 per set, as well as Swift springs to either complement a re-valve or stock valving. On stock valving a good rule of thumb is you can go +/- 30% on stock valving if you want to change the spring rates. That said, the OEM spring rate is 11kg/11kg and the stock setup works fantastically well out of the box with no fiddling required
Ex. SakeBomb Garage - RX8 DFV - deposit/paid/considering
1. Web order AZ - FD3S DFV - Paid
2. Web order FL - FD3S DFV - Deposit
3.
4.
5.
6.
7.
8.
9.
10.
11.
12.
13.
14.
15.
09-12-2015, 08:18 PM
RX8Club.com Sponsor
Moving along!
Ex. SakeBomb Garage - RX8 DFV - deposit/paid/considering
1. Web order AZ - FD3S DFV - Paid
2. Web order FL - FD3S DFV - Deposit
3. RedDragon - CA - FD3S DFV - Paid
4. Web order - NV - FD3S DFV - Paid
5. Web order - CA - RX8 DFV - Deposit
6.
7.
8.
9.
10.
11.
12.
13.
14.
15.
Thread
Thread Starter
Forum
Replies
Last Post
Series I Trouble Shooting
Series I Exterior Appearance and Body Kits
Series I Trouble Shooting